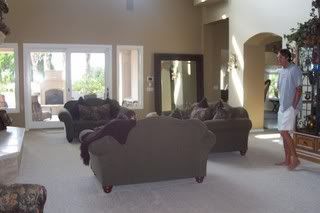 More fun swimming...
we went yesterday to the nicest pool I have seen-- a cave enclosure, large slide, remote controlled temperature and bubbles, waterfalls flowing from the raised hot tub to the pool. The new thing here in CA is saline- it is supposed to be gentler on your eyes and clothing, and just all around cleaner water. It was nice to not smell like chlorine when we got out. Kayden's favorite part was the slide, although he thought jumping on those couches would be pretty cool, too.
We visited with a few more friends at night, the Agees. One of those down to earth couples-- the kind we really miss. We are having lots of fun and relaxing outdoors quite a bit. The house we are staying at had the housekeeper and the pool man come by today. Ummm...I think I need a housekeeper. It was pretty nice to go out to swim and come back to a clean house!